1. CLASSIC KOLLEKCIÓ: classical hues for lasting objects
The latest collection designed by Color Trend Consultant, Lechler's Color Design® project for the industry, has now been launched with classical hues that inspire the historical colours of both Italian and European culture.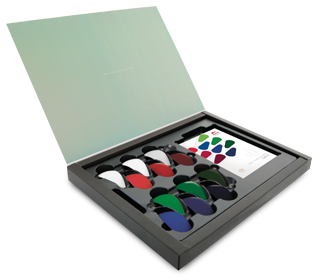 Lechler presents the fourth Color Trend Consultant collection.  After collections Pastelli, Polineutri and Golden Shades, which intercepted and anticipated colour trends, Lechler takes us by surprise with the Classics Collection that issues from Francesca Valan's study and reinterpretation of historical colours.
The PASTELLI collection recalled the soft pastel tones of the 1950s with supermatt finishes; the POLINEUTRI collection revisited metallic paints, enhancing them with colour; while the GOLDEN SHADES collection endowed metallic paints with warmth, leading to the Glam trend after the resounding absence of warm metals for many decades. However, though the first three collections witnessed the return of colours that were long absent from the scene of artefacts and furnishing accessories in our houses, the same cannot be said of the CLASSICS collection, which presents timeless colours that have characterised several historical ages and periods, and which have played an important part even in the history of art.
Blue, Red, White and Green: at a time of considerable uncertainty and transition, classical colours convey a sense of safety because they belong to our colour-related DNA and can interpret all languages ranging from minimal to glam, chromatic and natural. Colours produced with the latest technological systems are the ideal choice for long-lasting artefacts. Colour affects the life cycle of an industrial product, at times accelerating its ageing. Colours in the Classics Collection are studied to stand the test of time and to preserve, and even extend, an object's life. Objects must be less eye-catching to have a longer life cycle.
The collection includes 4 ranges: WHITE, RED, GREEN and BLUE, featuring gloss (60 gloss) and supergloss (90 gloss) finishes.
White opens the collection with three cold shades: Pure, Pearl and Off White. Red, Green and Blue are graded by saturation and finish:
Accent: solid, pure and glossy hues;
Metallic: shades that create a high saturation effect;
Dark: dark and supergloss colours.
Classical shades prefer monochromatic solutions but the range also allows monochromatic, bicrhomatic and polychromatic shades.
Every colour is associated with a painting cycle that ensures, besides the desired tone, adhesion on plastic, compounds, metal and glass, even adequate resistance and, especially, application costs that meet the requirements of industrialisation.
For 60 GLOSS CLASSICS, a single layer 60 Gloss solution can be used with direct adhesion on plastic, compounds, metal and glass. Pastel shades are achieved by using the product 2K PLASTICGRIP. The choice of this cycle with 2K PLASTICGRIP, which is rapid and economical, endows the object with a pleasant glossy effect that is resistant to both scratches and cleaning.
For METALLIC CLASSICS, a double layer solution has been created with a supergloss (90 Gloss) effect achieved by applying metallic and pearly shades in a double layer cycle with products 2K HIGH MATT BASE + TIXO KLARLACK 09. The supergloss cycle enhances the effect of colours by ensuring the utmost resistance to scratches, light and cleaning.
90 GLOSS CLASSICS are produced with a solution that ensures direct adherence on metal with a supergloss effect (90 gloss) and pastel shades with the product ACRYL 2K. The gloss finish ACRYL 2K, with direct adhesion to the medium conveys excellent aesthetics and resistance to atmospheric agents.
Color Trend Consultant Classics, as other Color Design® projects, offers both technical and humanistic content. The shades chosen by colour designer Francesca Valan are produced with modern chemical technologies developed by Lechler laboratories in solutions that can be easily adopted and industrialised.
The collection, a preview of which was presented at the annual meeting with Lechler Tech Club's partner  distributors, Lechler Tech staff and colour designer Francesca Valan, is now available and will also be shown with applications on actual objects at the MIlan Fuorisalone 2017 , side event of the Milan Furniture Fair.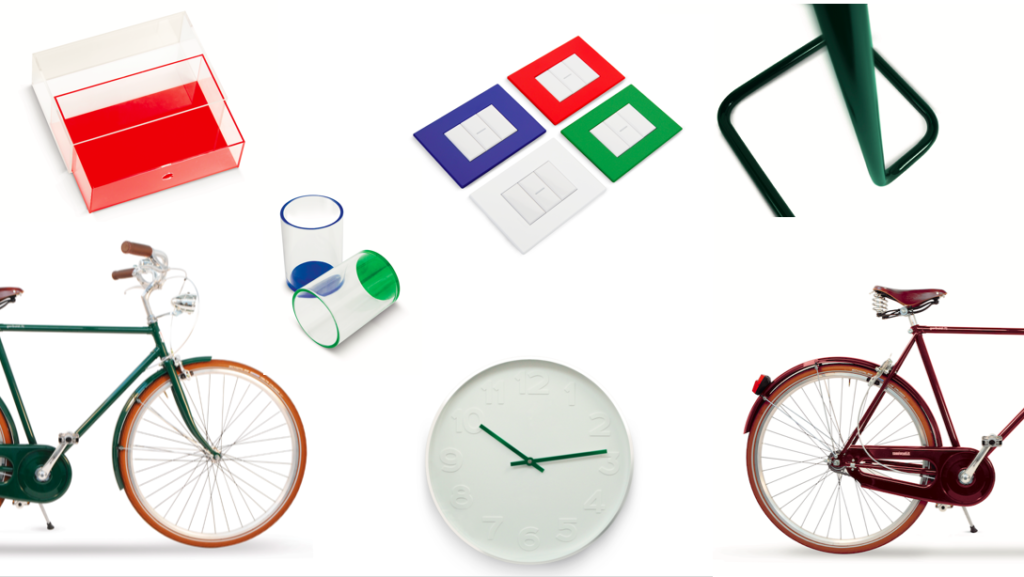 2. GOLDEN SHADES KOLLEKCIÓ: Pure Alchemy!
The presentation of this splendid collection called Golden Shades, the new proposal from Color Trend Consultant by Lechler Color Design, is certainly right on target!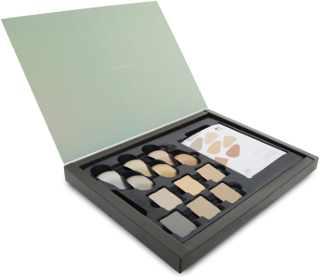 Since ancient times, the idea of changing metals into gold has symbolised the attempt to achieve perfection and overcome the last obstacles of the physical world. It is interesting to remember that the science we call Chemistry derives from the mysterious practice of Alchemy, and that the word "alchemy" in turn derives from the Arab word "al-kīmiyya", meaning "philosopher's stone", which was the magical stone that was supposed to have the power to turn lead into gold.
With modern painting technology, we wanted to recreate this quest for gold in a new way, by creating a new collection that resembles precious metals. Painting is, in fact, a way to give added value and refine the objects created by people. The Color Design project, which is founded on the combination of chemical technology and studies in humanities, could not fail to consider one of the most popular colours of the next seasons. Here is an answer to this new trend, an original proposal that can add value and make objects more precious.
Through our very successful and long standing collaboration with colour designer Francesca Valan, we have designed a golden future that develops well beyond mere chromatic. We've brought materials into the picture. In the trend map from Color Trend Consultant, the Color Design project for industry, we are now presenting the NEW GOLDEN SHADES COLLECTION.  Golds have been noticeably absent from our homes since the 1950s. After being gone for so long, gold is coming off as imperious, connected with glamour but also with a natural feel, because of its ability to evoke the idea of real colours and materials.
The new collection is based on a range of three colours: TITANIUM, GOLD and COPPER with an ¬opaque and semi-opaque finish. Each colour is developed in three shades Pale, Medium and Shadow and three degrees of gloss: 10, 30 and 40 gloss. For presentation, the new colours are applied on two different types of materials: rounded plastic drops and steel plates in order to allow the Designer to evaluate the chromatic behaviour on objects made in different materials and shapes. The range was designed to enable the development of mono-metal schemes in different shades or poly-metal schemes by pairing different metals.
After over a decade of "cool" metals, Golden Shades presents "warm" metals. The heat given off by these new colours has the power to evoke sensations and get away from less effective attempts at imitation of the past, without evoking a comparison between reality and make-believe. The nuances can be used on the same object to give a visual priority, through use of the different shades: to highlight a housing or a detail – whatever we want people to notice. Combinations between these shades can become a harmonious symphony.
Golden Shades colours can be applied on any metal or plastic object, and they adapt in a particular way to objects and furnishing complements found in homes such as small appliances, lighting products, video/audio equipment, and furnishing complements.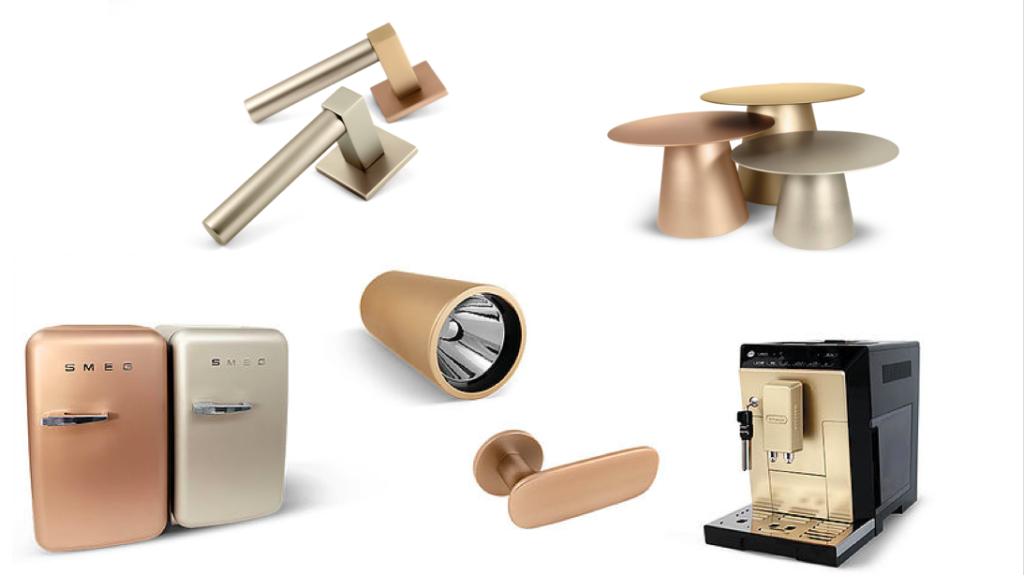 Pastelli Kollekció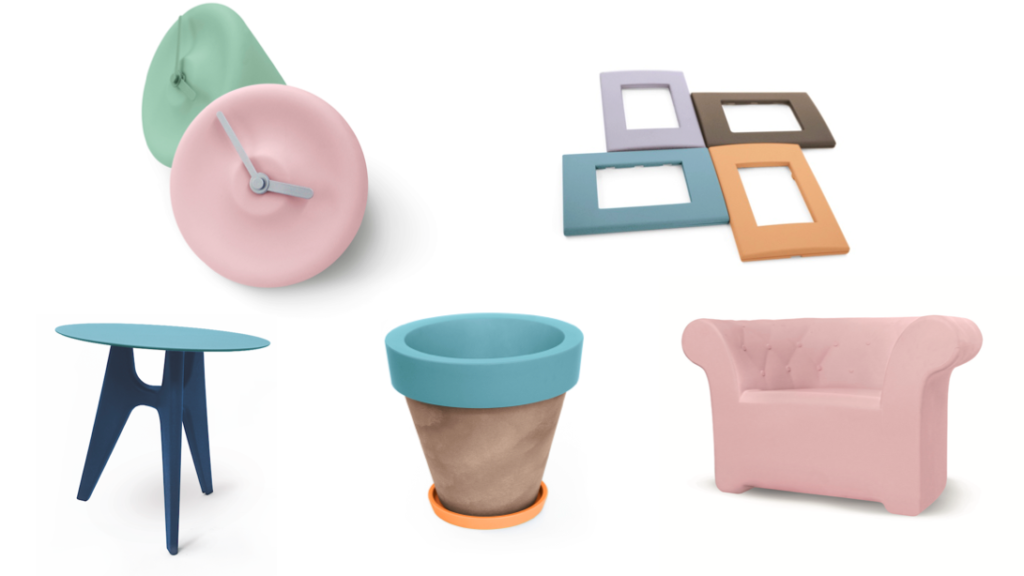 Polineutri Kollekció